Shaggys has owned this bike since 87 ,when it was his road bike .He converted it in to one the finest LCís on the road a beautiful nitrous 7up LC .It stands him at no less than £3000 .Any one wanting to give it a go should bear it in mind . Still itís cheaper than track racing .A weekend at this costs abought £100 with fuel and food.You get 6 runs a day ,maybe 15 runs on a bank holiday weekend .It uses 2,3 clutches a weekend 5 sets of plates . If any one would like to help nick with any type of sponsor ship you can get in touch with him at ndaniels@quatrix.co.uk
All primed up on the line at Avon park
One piece polymer body shell Paint by Cutrage
This bike is owned and built by Nick danials {SHAGGY}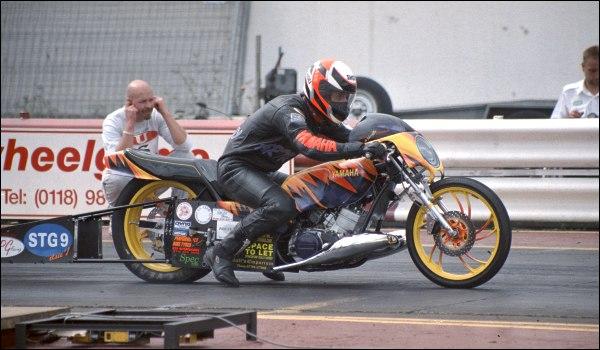 Back wheel 5.5 inch Duke with 7inc slick and Brembo caliper
This the No2 LC at the moment but shortly No1 shaggy hopes. You can catch him at Avon park Stanford on race days, you could go down and give your support its a good day out and beats reruns on the telly.
Pro stock one off made by Ralphís Emporium Leicester.
RD80 wheel RD50 forks with one off yoke.The caliper is of a Triumph rear .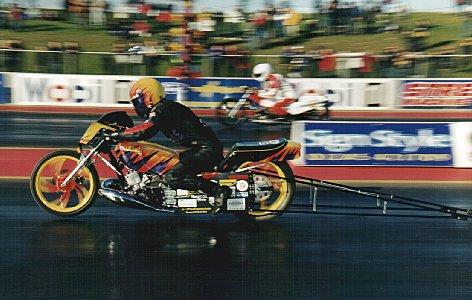 The bike puts out 87 bhp at the back wheel. It's best run was a 10.81 sec down the 1/4 mile at 122.45mph about 2 years ago. Itís being retuned by John Floyd this year ,the owner of the fastest drag LC in the country. So Shaggy hopes to smash his record this year .The retune is going to cost £400,and worth every penny. It runs on a 50/50 Avgas super unleaded mix and costs around £12 per mile to run. The back tyre costs £140 and lasts 20 runs thatís 5 miles, and you thought you ripped up the rubber on a red hot day.
Bored out to 390 using wiseco Banshee pistons from the states Carbs are 36mm flat slide electrons. Pipes are one-offs made by spec. Clutch MRE lock ups from the states. MRE air shifter. Moto plat ignition. Present tune by Mic Bub .