After looing all heart in geting the engine done and electricts sorted on the brink of throwing it all in I was given a phone number of a guy who was a fully qualified mechanic so I phoned him up and when he was ready to have a look at my bike I took it up. Brakes were failing me on the way up and how I never crashed I don' t know, the bike was a death trap. Anyway, the mechanic took the bike off me and proceeded to look at the brakes and was going to sort out the engine. A week went by and I took some bits and bobs up to him where he pointed out the crappy paint job my mate had doneon the bits. ( A monkey could have done a better job apparently) I said that I was going to powder coat the frame etc at a later date but it was pointed out that it would be easier for him to strip it down and get all the work done in one foul swoop rather than mess around.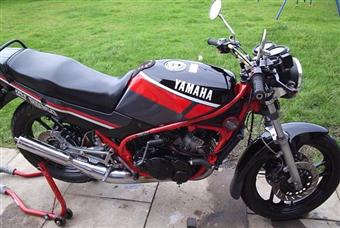 This is Pall Robins YPVS (NUTTERS) to his frends. I have never done a full page on a bike for the gallery before, but Nutters sent me a few pics and a story of his build up so i thourght why not. Should make a good read.
Paul got the bike as a bit of a dog with quight a few problems. At one point Paul was ready to throw in the towel and just swet fire to it and get his money back . But luckly he didnt . The pick to the right is the before pic and i dont think it looks to bad.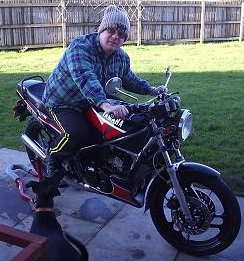 Here is the man himself. Not sure whats going on here? The before pic has a red frame the finished pic has a black frame. But here it has a silver frame and a belly pan . Im confized.
The following is Pauls story.
I had this bike for a few months by now i payed £650 for it. IT was in reasonable condition for its age and has matching frame and engine numbers. The frame had been botched up and was painted here and there in what looked like matt paint. The swinging arm was in grubby condition as was the rear shock. The fork seals I was told leaked but they passed the MOT and I havent observed any oil. Good points were the bottom of engine was in superb condition, the tank, side panels and seat all in ex condition.
The bike was in the process of being turned into a street fighter and the fairing was missing, original light and fiitting was replaced with a round headlamp and the bike had renthal bars. The yoke was also changed and this has not been put back. ( cant be bothered) I bought it with intention of doing it up myself but soon realised that there were just simply too many jobs for me to able to do myself and I had no garage, workshop, appropriate tools or any real knowledge, So I tried in vain to touch up frame, wheels and swinging arm in hamorite but it looked absolutely terrible, although at first I thought it looked great untill a few people pointed out a few misgivings like I hadn't stripped the bike down to rub down and degrease properly.
I tryed to do many of the jobs myself but was absolutely devastated by the bikes tattynes and problems. Although it didn't look pretty when first bought it had now been turned into a nightmare of a bike that looked like the paint had been thrown over it and dabs of paint slaped on other parts of the bike. The previous owner would be gutted to see the bike now and it was now generally very badly corroded. I needed to get a shoker, a centre stand and Rad grill also be fitted and a bottom Fairing. The top fairing I will have to obtain although I am leaving this for the time being. The exhausts can be cleaned up and all scuffs rubbed down and painted although I will be purchasing a pair of original cigar shaped ones later on. It took months and months to get all the jobs done but its all done now.
The hole bike now stands me at £1,493. After parts and labour.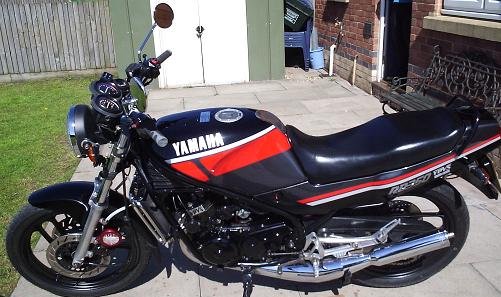 So the restoration began with all stresses leaving my hands it going to a guy who is a gem with bikes. He quickly stripped the bike down and stripped the top of engine off which showed on inspection the pistons needed changing. The small rattle I could hear was one of the pistons rattling and not really a small end bearing as i was told, So two pistons were ordered. The strip down reveiled a lot of nasty gremlins. The bushes on the swinging arm were badly corroded. So much that new ones would have to made as the corrosion was too bad for new too be bought.. Some other threads were also knackered, the head stearing bearings were naffed and needed attention and the brakes were a nightmare. The wrong pads were being used to start with so proper ypvs had to be bought. Some of the wiring needs attention. The rear shock was leaking badly when stripped.
Now thats what i call a nice bike .
Well done that Nutter man