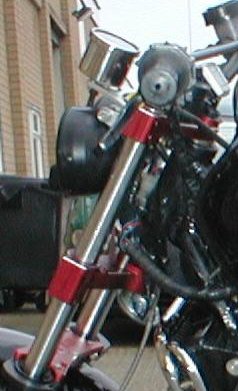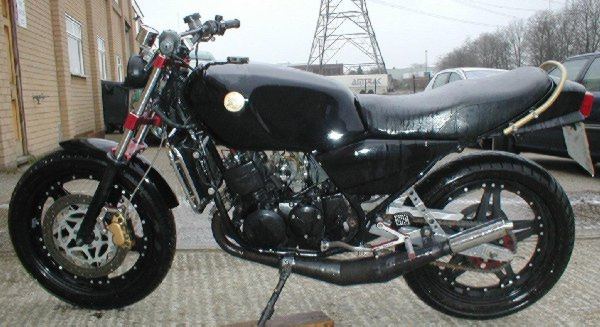 This bike built by Dave Jarvis, It may not look at first glance like a full on special more like a trick LC, but the more you look at it the more you see. The list of mods seems endless. Most impressive is the fact that Dave has made and fully built the bike himself. There are many special one off CNC machined parts and accessories on this bike.The swinging arm is I think the best home made swinger I have ever seen and the YPVS on it is a nice touch, not sure why it's there though, the only yp bit on the whole bike is the crank !!!!! You heard it right, this bike has a YPVS crank fitted as they have a 1mm larger big end and are stronger. The crank cases have been properly machined out to accept this unit.
One off aluminium swing-arm with adjustable ride height. Honda disc with AR 125 caliper and GPZ 750 master cylinder.
FRAME & BODY:
ASTRALITE wheels, powder coated with machined rivets. AVON AM tyres. FZR 1000 front disc with TZR 250 caliper, powered by AP RACING master cylinder. Patten front mud guard .
ENGINE :
FRONT END :
BACK END :
Standard
It has not been tuned, but is running DT175 pistons taking it to 375cc. It has a YPVS crank fitted, not a common mod !!!.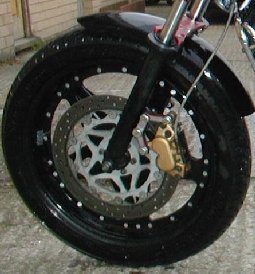 The tuning fork logo's are also a one-off special, machined from solid brass in 3D and look particularly nice. This I have never seen before. Nice one Dave !!!!!
Triple clamp top yoke and double clamp bottom yoke, anodised with chamfer detailing both machined from solid aluminium billet. Special fork brace, also cnc machined from H30 aluminium. Tell me that's not impressive handywork .
This bike has many one-off bits. The rear sets are machined from billet aluminium and are one-offs. It has Renthal bars and a chrome radiator cover. Dave has also littered the bike with stainless fasteners where ever possible. Twin spot-lamps, with a small digital speedo and mini tacho mounted on a one-off aluminium bracket.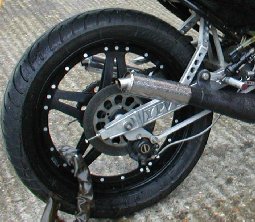 Early ALLSPEED pipes, with a tip welded on the end to reduce the noise output. I think it also makes them look a lot more modern and race like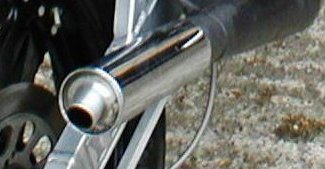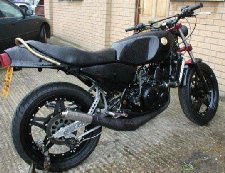 Click on this pick for a blow up of this image.