1998 Yamaha R1
R1 Undertail and rear fender
R1 front mudgard .
RZ tank color matched to body
Custom Carbon seat Re-badged as R3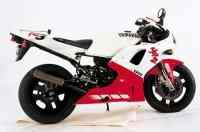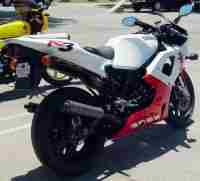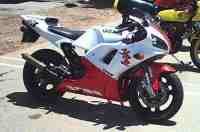 This bike was built and own by American David Zemla from California .It was a complete ground up rebuild and redesign . It took 2 years to build Meticulous care was taken in every stage of it's construction .He has removed over 4 poundsof metal from the frame .All new fairing brackets were then welded to it for the new look fairing . It now weighs 136 kg , and puts out 65 BHP .from a mild tune just to peek it up a bit and leaving it reliable .So far David has never had anyone who could identify the origin of the bike , and it's not surprising .
ENGINE :
FRAME :
1984 RZ350 frame,
1999 R1 subframe grafted to rear (had to cut it off an R1 frame!)
Sandblasted to raw steel and powdercoated gloss black

Minor porting , to keep it reliable . 30mm Mikuni carbs , K&N 2 into 1 filter
All case bolts replaced with stainless allens . Oil injection retained (revised tank relocated to upper fairing) . Restored Factory production pipes with hard anodized end cans . DID gold chain . RZs Unlimited offset countershaft sprocket .
FZ600 swingarm, powdercoated gloss black
Relocated upper shock bracket to regain lost ride height . OEM shock . Braided steel hosing .
Rask rearsets (passenger components removed)
PM 2 piston caliper (hard anodized)
Custom bracket , 7" TZ250 disc . Rear: 17" x 5.5" with TZ race slick .


ELECTRICAL :
Retained most OEM electric's
R1 Blinkers
R1 headlight and taillight
Even has a horn!
R1 battery located in tail section
FRONT END :
BACK END :
GSXR 1100 USD forks , tubes are hard anodized
New roller head bearings from Pro-Flo
:BrakesGSXR 1100 4 Pot's (hard anodized)R1 master cylinder, Braided steel hosing . Wheels & Tires:
PM spun aluminum race weight wheels off of a TZ250
Front: 17" x 3.5" with Dunlop 207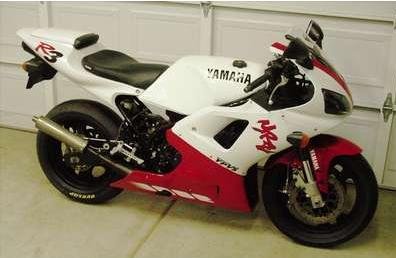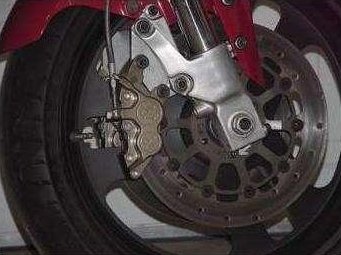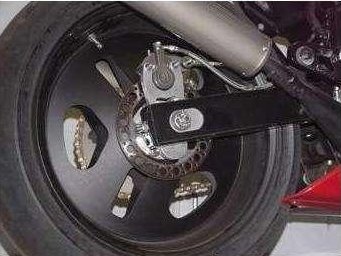 BODY :
These 3 images have nice blow ups click to see them .