Fully Road Legal SIMPSON Helmets
VENOM £279
Simpson has updated the materials and build quality . The standard Venom boasts the very latest composite Maxx-3C shell material, with fully removable, washable lining, an advanced venting and hot-air exhaust system, inner sun visor, and a quick-release Pinlock Max Vision equipped visor. A Max vision insert is included in the box.
Simpsons are produced in three shell sizes, with fittings from XS to XXL
TECHNICAL SPECIFICATION
- 3 outside shells made of high-strength and lightweight shell construction in MAXX-3C
- Multi-Axis Tricomposite compound
- ACU Gold Standard
- Small shell XS- M / large shell L-XL / extra-large shell XXL
- Ultra-wide viewport
- Pinlock 100% MaxVision prepared
- Visor with controlled antifog air flow
- Scratch resistant visor
- Visor with double locking system
- Inner sun visor
- Chin vent with inner open-close slider
- Hot air exhaust system
- Double D Ring
- Removable and washable inner lining
- Chin curtain
- Breath deflector
- Ready for easy installation of Bluetooth headsets
SIZES AVAILABLE
XS, S, M, L, XL, 2XL
COLOURS AVAILABLE
Matt Black, White, Gloss Black, Mat Carbon, Army Camo
VENOM £279 or £330 Carbon
DARKSOME £349.99 or £499.99 in full carbon
Flip-Front helmet with unique Simpson helmet style.
Simpson has given the Darksome a full suite of top-end features, based around an advanced Maxx -3C composite main shell, with a high-tech polymer flip-up section. That makes for a very light helmet – just 1,510g, as well as an easy-to-use flip mechanism.
A central button releases the chinbar, and a sliding switch on the main shell lets riders lock the chinbar in the 'up' position. There's an internal drop down sun visor, a Pinlock Maxvision insert included in the box, and the main visor has a tool-free release system. Fastening is by double-'D' ring strap, and the liner is fully removable and washable.
Simpson has also released an even lighter full carbon version of the Darksome, with super-slick carbon fibre outer shell material and black vents., in sizes XS-XXL.
TECHNICAL SPECIFICATION
- 2 outside shells made of 100% Carbon Fibre and high-strength and lightweight shell construction in MAXX-3C
- Multi-Axis Tricomposite compound.
- Small shell XS- M / large shell L-XXL
- Ultra-wide viewport
- Pinlock 100% MaxVision prepared
- Visor with controlled antifog air flow
- Scratch resistant visor
- Visor with double locking system
- Inner sun visor
- Chin vent with inner open-close slider
- Hot air exhaust system
- Double D Ring
- Removable and washable inner lining
- Chin curtain
- Breath deflector
- Ready for easy installation of Bluetooth headsets
SIZES AVAILABLE
XS, S, M, L, XL, 2XL
COLOURS AVAILABLE
Carbon, Matt Black, Gloss Black, White, Gunmet
DARKSOME £349.99 £499.99 in full carbon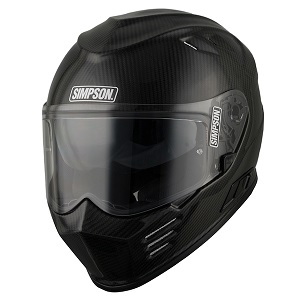 Mat Carbon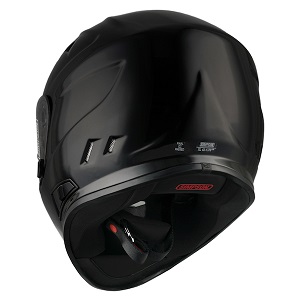 Mat Black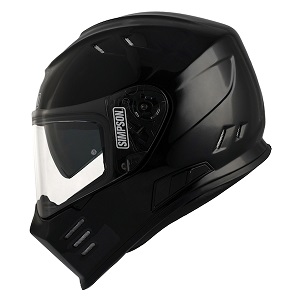 Gloss Black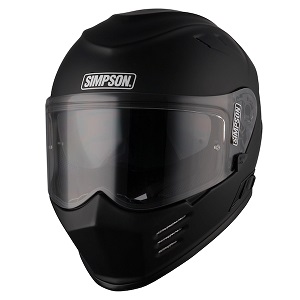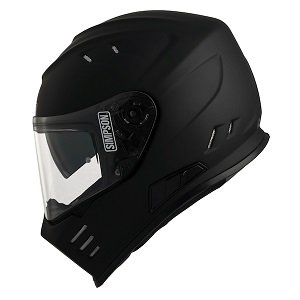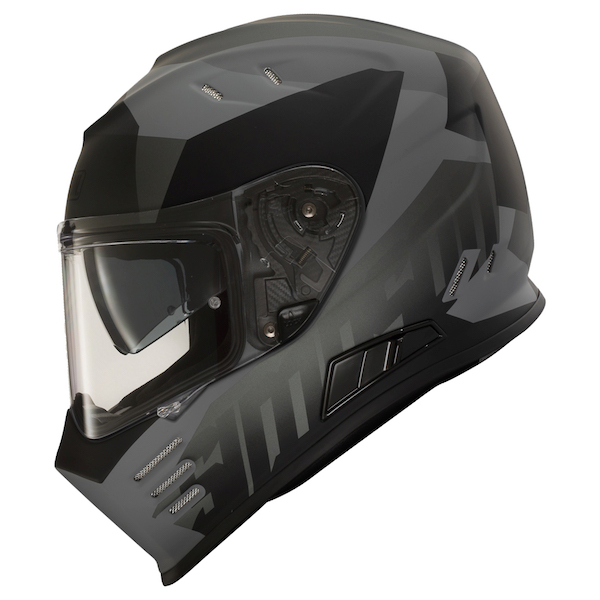 Army Camo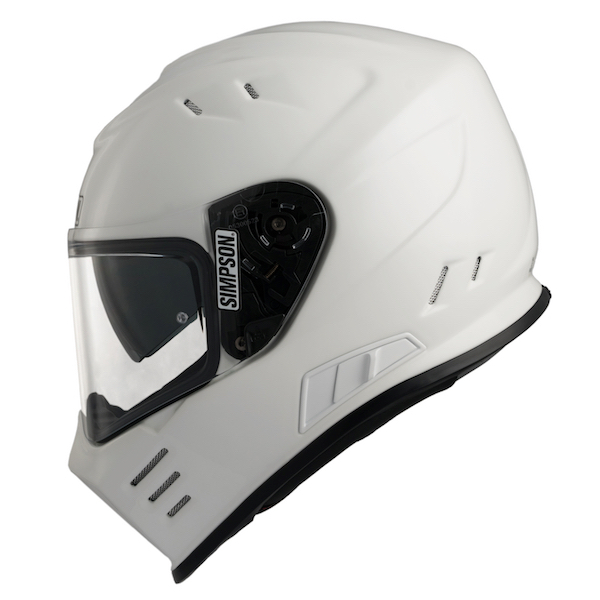 Gloss White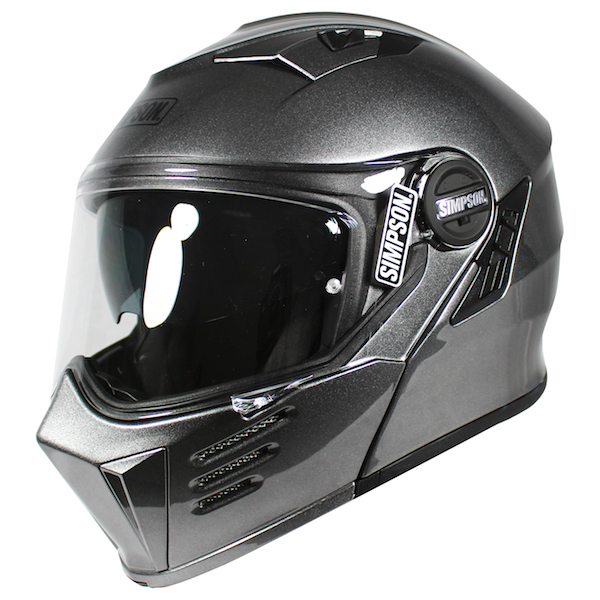 Gun Met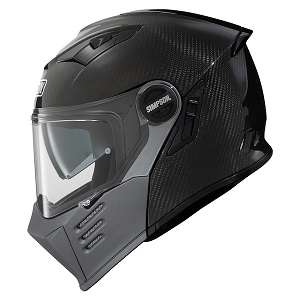 Carbon and Grey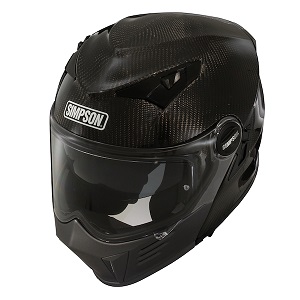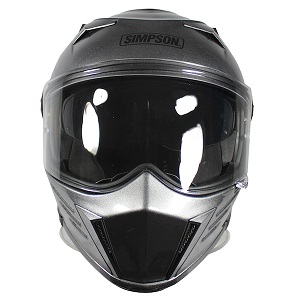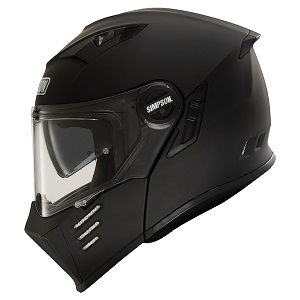 Gloss Black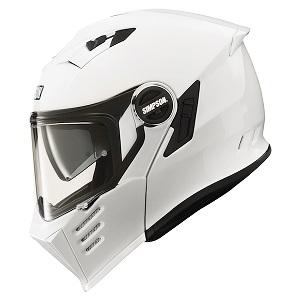 White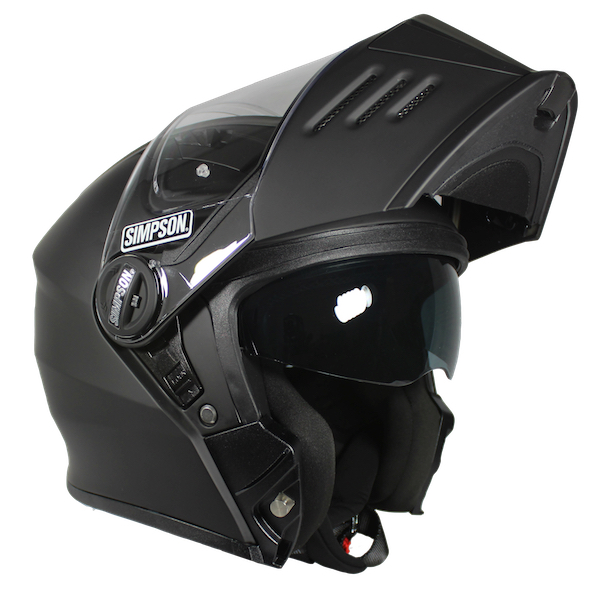 Mat Black