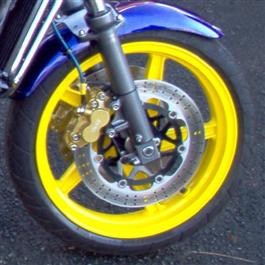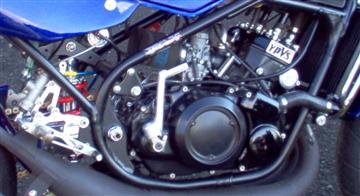 GSXR 750 aftermarket rearsets (nightmare to fit but they look the dogs (look above). SPA Design rev counter and digital speedo mounted on homemade bracket . RD500YPVS kick start. Chrome rad grill. Mini indacators and twin spot lights.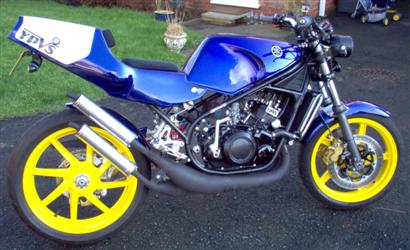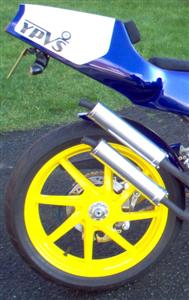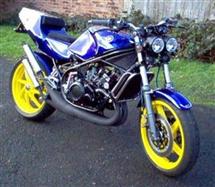 This 1989 350 F2 was built and is owned by Kevin cullerne. He was a big lc nut in the mid eighties and owned various models during those years. He then had a few years of madness swoping to a big fat hairy arsed deasels before a mortgage, bills and being under the thumb ofcourse pissed on his two wheeled blaze around the roads , ( Responsabilitey's a killer an't it.)
Click on this pic for a nice blow up image
Kev decided first to upgrade the front and Got hold of a KR1S front end which was surprisingly easy fit. It runs the compleat KR1S Front Wheel, Forks, Brakes disks, Yokes and mudguard.
And so it begins. The pit started to open and the money trikeled in or should be flowed in.
The engine is pretty much standard other than a fresh re-bore and foam filters. Kev Hopes if funds allow to get some work done on the engine to pep it up not that it realy needs it but you allwayt more dont you . The frame is standard with only a few mods to acomadate the seat unit.
In 1999 He got Himself a YZF 750 but fortunatley this did not last long and with theropy his thourghts returned to blue smoke and powerbands. He heard about a bloke at his work selling a tatty 350 f2 to make way for a new bike"a deasal no doubt". It was a good runner, straight and road legal and he only wanted 200 quid for it a real bargen so Kev gave him £175 the cheekey bugger. Old Kev decided he was going to do something special with this one as soon as he got it home, so he sold the 750 to pay for the project. (like that was going to be enough!)
Front end:
Over the next few years every thing had been re-built, powder coated, replaced or polished at one hell of a cost . It took four years to get it finished mainly because Kev kept running out of funds to get it how he wanted it, but now its there and he's really pleased with a job well done, "and so he bloody well should be" Not bad for for a first attempt at a special is it .
The back side:
Kev found an NC30 Rear end compleat, Wheel,disk caliper swinger and Suspension, Not as easy as the front end to fit but the NC30 single-sided swing arm did eventually fit in with a little help from a big hammer "who'ed have thourght".The tail unit is a one off tailpiece to Kevs own design.
He had a set of one off Swarbrick Expansion Chambers made for that trick GP look. "I like them gives it a more modern look and i bet it sounds the dogs to."
The seat unit is a one off made to kevs own design, and he still hold the mold for it .
Frame & Engine:
Odds and sods:
Click on this pic for a blow up inage of it .