SPA Designs Digital Speedo (Backlit) . Yamaha RD 350 YPVS Tacho Warning Lights YPVS Loom . Digital Temp Gauge . BDK fully adjustable CDI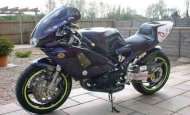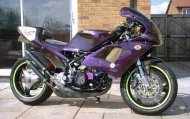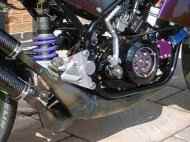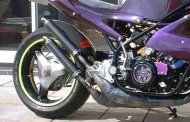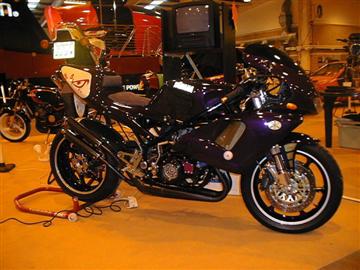 FRAME:
Yamaha RD 350 YPVS F2 Crankcases (Flowed) Yamaha RD 350 YPVS 31K Barrels (Ported) Head (skimmed & re-profiled) Heavy Duty Clutch . Modified Clutch Cover (Quick Release Cover) . Balanced Crankshaft . PRO-CUT Gearbox rrom (R&D Transmissions Clearwater , Florida) . Pro Porting Pipes With promotive silencers . Mikuni TM 36mm Flatslide Power jet carbs . Boost Bottle . Kawasaki ZXR 750 Radiator . Modified Reed Blocks & Cages (Downdrafted) .Yamaha RD 500 YPVS Kickstarter
ENGINE:
One-off steel trellis frame to owners design . Wheelbase 1415 mm
FRONT END:
Suzuki RGV 250 N Upside Down Forks Re-sprung & Re-Valved by Maxton . Suzuki RGV 250 N Bottom Yoke . CNC Billet Top Yoke . Suzuki RGV 250 N Front Brake Calipers . Honda CBR 900 RR Front Brake Discs . PVM magnesium Front Wheel 17 x 3.5 Goodridge Stainless Steel Brake Hoses Spondon Aluminium Clip-On bars yamaha YZF 750 SP Front Brake Master Cylinder . Kawasaki ZX9R Adjustable Clutch Lever Assy . Suzuki RGV 250 N Front Mudguard (Modified Cooling Vents) . CNC Machined Billet Fairing Bracket .
REAR END:
Honda RC30 Swingarm, Disc, & Brake Caliper . PVM magnesium Rear Wheel 17 x 5.75 . CNC Machined Billet Torque Arm. Showa VFR 400 NC-30 Rear Suspension Unit (Resprung) . CNC Machined Rear Shock Remote Reservoir Carrier . Lightened Rear Hub Assy, Cush Drive& Sprocket Carrier . Ride Height Adjuster . MRE Off-Set Front Sprocket . Carbon Fibre Rear Hugger . Honda NSR 250 Rear Brake Master Cylinder . Goodridge Stainless Steel Brake Hose . CNC Machined Billet Rear Sets & Levers . GP Tech thumb brake / Honda RC-45 HRC Kit Rear Brake Reservoir .
Aprilia RS 250 Fairing and seat unit (Modified) Undertray for seat unit One-Off . Yamaha FZR 250 Fuel Tank (plastic) . Pingle Hi-Flow Twin Outlet Fuel Tap . Custom Paintwork
ELECTRICS:
All the small pictures on this page have a big brother click them to see .
This bike was built and is owend by Nigel Kimber from The midlands England . The time and effort that has gone in to this creation we can only imajin . When you look at the blowups you will see the atenshon to detale . Whith makes the diforance between a good special and a trooley exceptional one . there arn't meany like this .
varieties of metal being ground away in a kaleidoscope of blue, orange, yellow and gold tracers. Then, of course, there was the red mist that descended in front of Nigel's own eyes. Lost in its depths, he ran off the track at Park Corner. What would have been a disaster on many roads was no more than a temporary blow to his lap times. With no parked cars or street furniture to worry about, he had plenty of empty space in which to kill his speed, continue across the grass and rejoin the track.
The day was quite an education. "It was the first track day I had ever been on and was such good fun I wondered why I hadn't done it ten years earlier," he said. "The margin for error is so much greater on the track than it is on the road."
It also proved that his bike was a flier. The brakes were good and it handled well. All it needed was a bit more ground clearance - something he took care of with more mods last winter. Nigel's now a track-day junkie. More than two-thirds of his 1500 miles on the powervalve Yam have been on race tracks. He has chalked up five sessions at Cadwell, another at Mallory and one at Donington at . He also fancies giving Oulton Park a go, and the full GP circuit at Brands.
Nigel decided to find out at a track day at Cadwell Park. in the summer of 1999 just how his cration would preform .Aparently his progres through the twists and turns of the circuit were accompanied by a shower of sparks from knee-sliders, pipes, footpegs and the side stand bracket. It was quite a spectacular show, the colour ,the pyrotechnics changing to reflect the different
The atenshon to detale . is just outstandind just click and see even the clutch basket is coler matched
NIGEL owned a 350LC when he was a teenager. Now he thought such lunacy was way behind him. You see, he's a banker. No, that's not rhyming slang. He really is a banker - an investment planning manager with a company Ford Focus in the driveway of his village home in Leicestershire and business suits in the wardrobe.
In evenings and weekends it's on with the Arai helmet and leathers and - at track days - out with the brain. "I suppose the 350LC must have become part of my genetic make-up the day I first got one," he says. "There is something about the LC that is all-absorbing - you buy one and became part of the cult." It was a side of his personality which had fallen dormant until two stroke tuner Harry Barlow got it all fired up again. They first met in the 1980s. Nigel had just bought his first 'motorcycle' - a second-hand Honda MT5 sports moped. Most of us are pretty impressed when we first step from a bicycle to a powered two-wheeler. Nigel wasn't. "Flat out it would do 23mph," he said.
"I was being passed by milk floats and could have walked faster. I had the Honda about five days when I fitted a 65cc big-bore kit. Twenty-four hours later it seized. Harry was a mechanic at the bike shop I took it to and we have known each other ever since. When I was running tuned bikes, Harry was the person who sorted out the mistakes." One of those tuned specials was a 350LC.
Nigel says that it was virtually unrideable on the road when he bought it, with zero torque and a vicious surge of power at 8000 rpm. Harry first returned it to standard trim and then, after Nigel had enjoyed a trouble-free touring holiday to Spain, tuned it properly. Great days but after a couple of years the Yamaha was replaced by a more sane GPZ600. Harry moved to America in 1993 to race and tune his own machines and other people's but the pair still kept in touch and in 1996 Nigel accepted his invite to help out at Daytona where he was campaigning a 350 power-valve Yamaha in one of the Florida Bike Week races. Nigel knew his way around a socket set, having helped friends prepare machines for drag racing, and was off to the States like a shot for some high adrenaline R and R and thank god he did or this little beauty may never have been built
click this image to see bow up
click this image to see bow up