This bike was built by Wayne Keeling . Wayne was offered the frame for £50 he got the yokes , swing arm and sub frame aswell He picked up the wheels and disks for £50 and the shock for £80 a real bargen lass then £200 for a trick rolling chassis , what is the wourld coming to ?
The frame is actually two alloy plates cut and bent sykketriclly to form a box around the engine .The head stock is made from dural and bolts on at the topend with the cantilever swinger pivoting at the bottom
It's a lot lighter then a standard valve and 4 inc shorter.The frame makers say the compleate bike would weigh the same as a TZ .Ti's very low too , not much larger than a 125lc , so even with a standard engine it can run two teeth less at the rear and it's a reall wheelie monster . All the electrics live in the seat hump so the motor for the power valve has really long one-off cables .
BACK END :
Steel tube one-off cantilever swinging arm with Wite power shock . CMA 5 spoke wheel with 130 tyer twin piston caliper with braded steel hoseing and spondon disk .
CHASSIS :
Alloy monocoque with tube steel subframe
BODY :
Spondon one-off tank .86 TZ seat unit
FRONT END :
Headstock machined from solid dural .TZ 350 forks and yokes spondon clipons , spondon 320mm disk and spondon twin pot racing caliper CMA 5 spoke wheel with 110 front tyre and Goodridge hoseing
ENGINE :
Standard F1 YPVS with k&n filters ,Allspeeds custom made to fit the frame .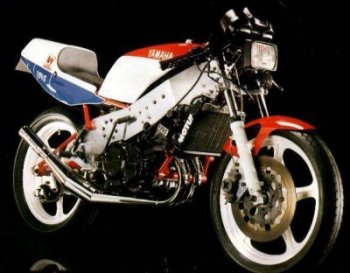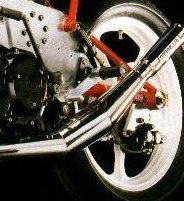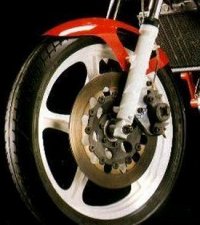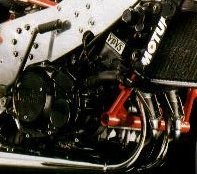 The circular cluster of fasteners just above the swingarm pivot hold a tublar bridging piece whch gives the chassis most of it's rigidity , very light , very simple and very unusual . This form is actually the mk2 version .The mk1 had larger alloy plates that went back to the seat instead of stoping at the swingarm pivot . I saw the other siting in a frands garage gathering dust about 10 years ago .
The image on the left has a blow up click to see .
ODDS AND SODS :
250 lc clocks and rad . one-off rear sets with ypvs master cyilinder . patent head light .
350 YPVS TZ