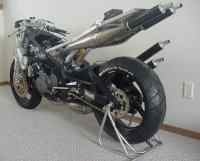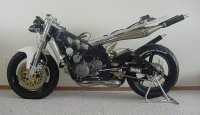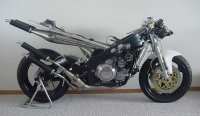 Tracy Burkhart's YZR500 REPLICA
Front end :
Back end :
Front end USD forks from "92" TZ250 front wheel 3.75" . Brakes and rotors are Brembo GP spec with the calipers being Billet . one piece goldlines and the rotors being fully floating 320mm cast iron.
Front master cylinder is also a GP spec Brembo adjustable ratio type.
(not shown) is 1993 YZR500 spec carbon fibre.
Tank is from a HARRIS YZR500 (ex-Sean Emmett).
Conversion by Spondon as is the custom radiator.
Pipes one off's carbon fibre by Derek Huxley.RZ500 motor with bead blasted cases to give "pukka" factory look.

from "88" TZ250. Seat frame custom made
Swingarm and 5.5" rear wheel from "92" TZ250. With Brembo rear caliper .
Frame :
Engine :
Body work :
Tracy has been building this bike for over 9 years and only a handful of people have ever seen a picture because he intended to keep it under wraps until it was finished. Oh well, so much for that now. Obviously the bike isn't finished yet, however its been very close to it for over 3 years now. The bike uses an RZ500 motor and a 1988 TZ chassis. The swingarm is off of a '92 TZ as is the frontend. The brakes are Brembo GP spec 320MM fully floating cast iron rotors with GP one piece Brembo calipers and custom machined caliper mounting brackets. The rear shock is an Ohlins TZ unit
and the pipes were built by Derek Huxley in England. The fitting of the motor was done by Spondon Engineering. The seat frame and every other custom machined part was done by Don Fox..a "very" talented tuner, racer, welder and machinest. The front rim is TZ 3.75in and the Rear is 5.50in TZ. You'll notice that the servo motor has been moved to the right side steering area where it belongs ,All the bodywork is carbon fiber It all so has have Sean Emmetts YZR500 petrol tank . There are some nice shots with the bodywork and tank off so you could get a better idea of how things fit(very tight indeed).Luckily enough, the countersprocket is in the same exact spot as the TZ's was and the balance of the bike is 51% front, 49% rear so it ought to handle well. Future plans are to have the front forks Ti'd and anodized and then just to finish the damn thing.